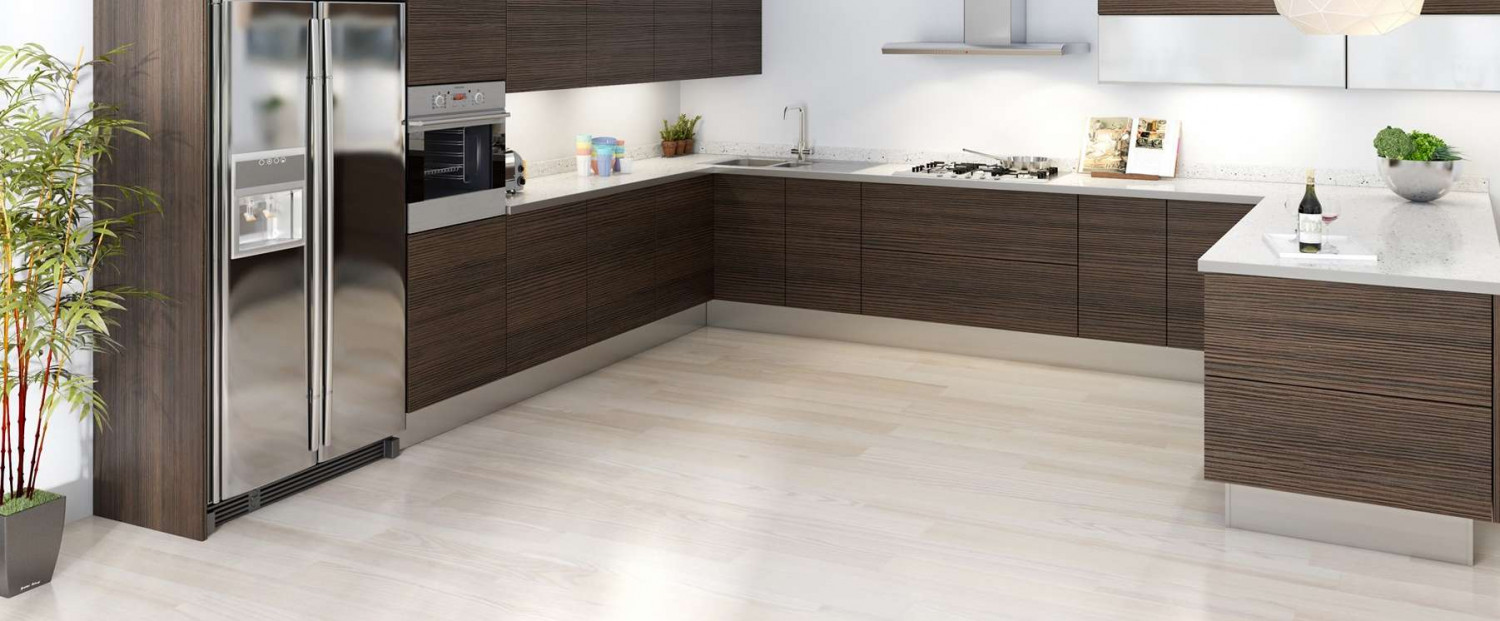 What is the best flooring for my kitchen?
The best choice for a heavily trafficked kitchen is natural stone, porcelain or tile. Limestone, waterproof laminate and engineered hardwood flooring are also good options. The types of engineered hardwood usually installed are parquet, laminate, vinyl and these types of modern wood reduce moisture problems normally associated with traditional hardwood. Engineered hardwood is easy to clean, and will not warp or swell due to moisture, humidity or changes in temperature.
What is the difference between laminate and engineered hardwood?
Engineered hardwood has a real layer of wood on top whereas laminate does not. The layer of hardwood adds extra strength and stability to the kitchen floor and provides the same rich appearance as natural wood flooring.
What types of natural wood floor are there for my kitchen remodeling project?
Natural hard wood flooring adds great value to a kitchen and home. Wood lends beauty, hardness, durability, warmth and richness to a room. The most common wood used in the kitchen are oak, cherry, maple, walnut, birch, and hickory. Pine, jatoba, teak, tigerwood and Brazilian cherry wood is also installed in many fine kitchens.
What kinds of stone flooring can I get for my kitchen remodeling project?
The most beautiful stone and tile finishes come in quartz, porcelain, unglazed and glazed porcelain, natural stone, mosaic, monocottura, unglazed and glazed ceramic tile and quary marble. Quartz, porcelain and glazed ceramic with a hard protective top layer, as well as unglazed ceramic tiles are highly scratch resistant and moisture resistant.
What shapes are available for my stone or tile kitchen floor?
Flooring tile comes in square, rectangular, listello, interlocking, chevron, hexagon, herringbone, and rhombus.
The Kitchen Spot is your One Stop Shop for All Things Kitchen Remodeling and the best kitchen flooring in Baltimore. Located in Owings Mills and Baltimore City, we are your one stop design store for kitchen cabinets, counters, stone, quartz, porcelain, ceramic tile and hardwood flooring, backsplashes, hardware, countertops and high-end appliances such as Sub Zero, Wold & Cove. We specialize in complete kitchen renovations.

As one of the largest Owings Mills kitchen supply stores, we offer everything from design to installation services based on your particular need. Give us a call at 410-548-2436 (410-KITCHEN) to schedule a design consultant appointment to visit our showroom!
Somerset Hardwood Flooring
Cherry Wood Kitchen Flooring and Cherry Wood Cabinetry at The Kitchen Spot Baltimore Design Shop
View Photo
Oak Wood Kitchen Flooring with Natural Wood Cabinets at The Kitchen Spot Baltimore Design Shop
View Photo
White & Black Large Marble Flooring with Sinks at The Kitchen Spot Baltimore Design Showroom
View Photo